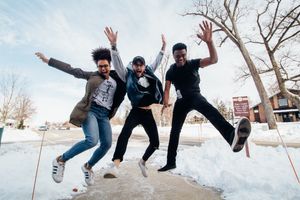 One Epic Life highly encourages volunteer work and mentoring in order to provide value to the community.  Our vision is to equip adults and youth to live epic lives and have the tools necessary to do this. If you are looking to give back and are committed to being part of the change our communities need, then we would like to extend an invitation to consider being apart of our family here in San Diego, CA or our extended family across the world! 
San Diego Family:
One Epic Life offers mentor training to equip you to become a member on our coaching team.  If mentoring is not something you are interested in, we have many more volunteer opportunities in social media collaboration, podcast production, curriculum development, fundraising and event coordination.  Every volunteer is instrumental to the success of our movement.
Extended Family:
Our vision is for people across the globe to embrace their own epic lives. This may be as simple as simultaneously hosting a One Epic Life event. We will set you up for success by assisting you in planning the event, adding it to the website and producing the customized social media marketing materials. It's about bringing together communities in positive ways.  
Please fill out the questionnaire below if you are interested in hearing more about volunteer opportunities or hosting your own One Epic Life event!